Target
A unique approach to management and life, taking inspiration from the wisdom of the ancient Japanese martial art of Kyudo—The Way of the Bow

Applying the teachings of Kyudo to actual business situations, author Jerome Chouchan (CEO, Japan, South Korea, Australia, New Zealand at Godiva Japan, Inc. and holding a 5 Dan rank and an instructor licence , Renshi, in Kyudo) offers insights into the art and practice of management that allowed him to innovate and double the size of its business in five years.

| | |
| --- | --- |
| Author | Jerome Chouchan |
| Publisher | Takahashi Shoten |
| ISBN | 978 - 4471401030 |
| Category | Business |
| Estimated length | 180P |
| Size | 184 × 128 mm |
| Sold to | English |
In both the conduct of business and the practice of Japanese traditional archery—Kyudo—it is critical to hit the target: a target of paper in archery; a quantitative target in business, such as turnover and profit.

While in business, the emphasis is increasingly on the result and the outcome, in Kyudo it is taught that the energy should be focused on the proper spirit and form … and the target will then certainly be hit as a natural consequence. This tension and balance between process and results, between self-will and spontaneity, is covered in TARGET in many successful and concrete business examples where the author has put into practice the principles of Kyudo.

The author draws on specific cases and teachings from his unique vantage point: French, while being a long-term resident of Japan (more than 25 years). He has successfully pursued a double career in business and Kyudo.

After working for many famous global brands in Japan, such as Lacoste, Hennessy and Lladro, he is presently the CEO of Godiva Japan, Korea, Australia and New Zealand. He has managed to double the size of the business in Japan within the last five years despite the fact that the Japanese economy is largely stagnant and the chocolate market broadly flat. In Kyudo he holds a 5-dan rank and an instructor licence, or Renshi. He is also presently a Board Member of the International Kyudo Federation, the body governing the development of Kyudo all over the world.

The aim of TARGET is to provide genuine guidance and deep insights for people who wish to find an enhanced and richer meaning and a new approach in career and company. The reader will discover that business can be much more successful, as well as more fulfilling and enjoyable, when it is practiced with the right spirit; that there is a deeper goal than just aiming for sales and profit, in a similar way that shooting an arrow according to "The Way of the Bow," can be so much more enlightening than just learning the technique of how to pierce a target made of paper.

TARGET stands as a relevant guide to our times, with its practical applications to business and real-life situations. These are put in a different perspective through universal, easy-to-understand and time-tested Kyudo aphorisms that have been transmitted from Japanese masters directly to the author.

TARGET is an inspiring book that has been widely praised since its publication in Japanese in February 2016. It is not only one man's journey into Japanese tradition and contemporary management—it is a guide to the conduct of life that infuses the reality of everyday challenges of global business with new answers born from the perennial wisdom of a traditional art form of Japan.


FOREIGN EDITIONS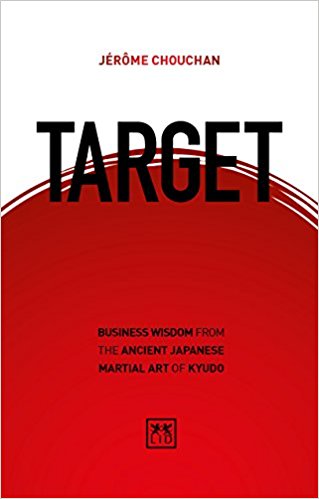 | | |
| --- | --- |
| Title | Target: Business wisdom from the ancient Japanese martial art of Kyudo |
| Publisher | LID Publishing |
| Publication | April, 2018 |
| ISBN | 978 - 1911498735 |