QUILL - The Life of a Guide Dog
Guide dogs not only lead blind people but also are always there to comfort their partner. They love working and become very loyal. They really are good friends.
With beautiful pictures taken by Akimoto who followed Quill for twelve years, this book lets you embrace the warmth of this clever dog.

| | |
| --- | --- |
| Author | Kengo Ishiguro, Ryohei Akimoto |
| Publisher | Bungei Shunju Ltd. |
| ISBN | 978 - 4163572604 |
| Category | Nonfiction |
| Publication | April, 2001 |
| Estimated length | 150P |
| Size | 190 × 134 mm |
In an early morning of 1986, a Labrador gave birth to five puppies.

One of them had a black seagull-shaped spot on his side. This dog's cleverness made his owner Ren's mind: he would like at least one of his dogs to become a guide dog. This was his long-cherished dream.
The dog was named Quill and became a fine guide dog.

"Quill --- The Life of a Guide Dog" is a record of Quill's entire life, from his birth until the last day.

About the Author
Kengo Ishiguro:
Editor (born in Kanazawa, Japan, 1961)
His other notable publication is "Life of Quill," which is based on the true story of a dog named Quill that was raised to become a guide dog. The book has achieved bestseller status, recording sales of 700,000 copies in two years. Mr. Ishiguro has authored other leading publications in the popular genre, including "Puppy Walker," "Bani and Kids," and "The Structure of the Japanese Education System: You Don't See This in Chart-Style Tests." He has also contributed to "Walking with Dogs," issued by the Japan Seeing-Eye Dog Users Association. Mr. Ishiguro also has edited "Good Dog News," "100 Views of the Mambonsai," and other works.

Ryohei Akimoto:
Photographer (born 1955)
After graduating from university, Akimoto built his career as news photgrapher and now works as freelance photographer.

FOREIGN EDITIONS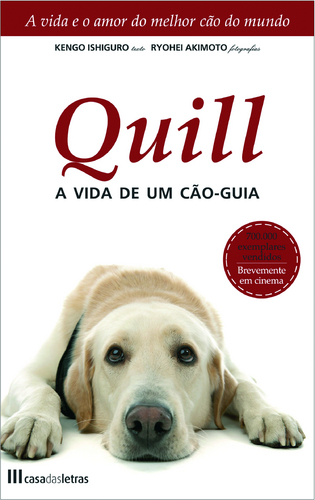 Title
Quill: A Vida de Um Cão-Guia
Publisher
Casa das Letras
Publication
July, 2008
ISBN
978 - 9724618227
Casa das Letras