I Hear Them Cry
The winner of the Toyo Shuppan Literary Award of 2002.
Love and hatred woven into a novel of psychological suspense.
| | |
| --- | --- |
| Author | Shiho Kishimoto |
| Publisher | Toyo Shuppan |
| ISBN | 978 - 4809674426 |
| Category | Literature & Fiction |
| Publication | June, 2003 |
| Estimated length | 204P |
| Size | 198 × 134 mm |
| Sold to | World English |
"Can you hear his cry for help?"

Mayu .. Mayu, Mayu ..
In his whispers I hear the cries of Anna, the abused girl.
"Help me .. Help me, somebody, help me .."

Aspiring to be a painter, Mayu travels to France after graduating from art school. There, she finds her role model in Jean, a priest who devotes his life to rehabilitating juvenile delinquents. Through Jean she also meets Anna, aged seven, and her brother Pierre, who one day stabs their mother Simone out of anger for her involvement in prostitution and drugs. But what's more, Mayu discovers that Simone has been offering Anna to men for money. To keep Simone away from Anna and to save Pierre from incarceration and to protect Anna from being interrogated at length by the police about her sexual abuse, she decides on a shocking course of action that puts her own future at risk. But her gamble pays off and Simone is sent to jail, leaving Anna and Pierre to lead their lives away from their abusive mother.

Mayu then goes on to marry Shigeki, a wealthy wine dealer from Japan, and returns to Japan with him. Her happiness doesn't last long however, with Shigeki taking frequent business trips that make her suspect that he's cheating on her. But she tries to save her marriage by sleuthing for the secrets of Shigeki's family, only to discover that Shigeki was born out of wedlock, that his mother had hated her ruthless parents and her husband, and that in turn, her husband had been abusing her and Shigeki. These facts open Mayu's eyes to the reality that Shigeki is yet another Anna, another victim of child abuse.

Reviews
The main character, Mayu Asaka, is a strong woman. She is brave enough to take big risks to do what she believes is right. She regards herself as a pseudo-Catholic, and religion underlies the story. Father Jean, who devotes his life to helping juvenile delinquents, has a profound influence on her. He teaches her that anybody is redeemable and every life is worthwhile.

The author, who works as a psychological counselor, sheds light on the minds of the abused and those of the abusers without becoming overly technical. I think the strength of this book is that it is a good mix of religion and psychology and a good mix of suspense and love fiction.
About the Author
Born in Tokyo in 1950, Shiho Kishimoto graduated from Joshibi University of Art and Design before joining a trading company. Transferred to its Hong Kong office, she became engaged in foreign exchange and trade operations there. After appearing in court as a prosecutorial witness in a trial related to Mitsukoshi's tax evasion case, she penned the essay, "My One Other Profession."

Her debut novel "Sakebi ga kikoeru" (I Hear Them Cry) received the Toyo Shuppan Literary Award in 2002. Acclaimed for her mastery in the psychological suspense narrative that explores the depths of the human psyche, Kishimoto is also an NPO-certified counselor and works as a psychological counselor to individuals suffering from disorders such as school phobia and withdrawal from social contact. She is active on the lecture circuit, recommending education to keep children out of crime. Her other books include "Takarakuji" (Lottery) and "Betsu-jin ga mieru" (I See a Stranger).

FOREIGN EDITIONS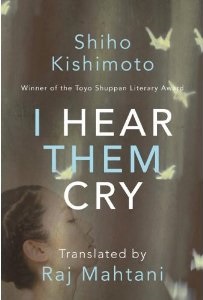 | | |
| --- | --- |
| Title | I Hear Them Cry |
| Publisher | AmazonCrossing |
| Publication | November, 2013 |
| ISBN | 978 - 1477848074 |