World-class Leadership
Based on the careful analysis of business market research and numerous interviews with people who lead today's world economy, Tetsuya Abe proposes a new leadership theory. With decades of experience in business and by studying leadership and the hierarchy of the workplace, Abe focuses on the comparison between Western and Eastern-style leaderships. His own conclusion is that these two different styles should be integrated into one, which is suited for the new global market.

| | |
| --- | --- |
| Author | Tetsuya Abe |
| Publisher | Doyukan |
| ISBN | 978 - 4496044878 |
| Category | Business |
| Publication | May, 2009 |
| Estimated length | 217P |
| Size | 192 × 130 mm |
| Sold to | English |
Abe's World-class Leadership is a combination of west and east, old and new; and most of all, it is a fine work of nonfiction full of anecdotes of world-class leaders, including Takeo Fukui (president of Honda), Fumio Otsubo (president of Matsushita; Panasonic), Masayoshi Son (president of Softbank), from Japan, and from overseas, Jack Welch (ex-CEO of GE), Louis Gerstner (ex-CEO of IBM). Their true-life examples teach us how to become global business leaders worthy of respect and attention.

So, how do we need to change to become World-class leaders? There are three crucial features that changed the world dramatically in the past few decades: Internetization, economic globalization and diversification. In order to tackle these situations, we have to start "local"; from individuals to teams, to the global market and finally to the whole social world. In each chapter, he dissects the components of World-class Leadership divided into four categories: self leadership, team leadership, global leadership and social leadership, which are the most unique features in this book.

===== Table of Contents =====

Preface: Globalization: From Domestic Business to the Global Market
Chapter 1: What is World-class Leadership?
Chapter 2: Self Leadership
Chapter 3: Team Leadership
Chapter 4: Global Leadership
Chapter 5: Social Leadership
Chapter 6: Conclusion: To the Future Generation
About the Author
Tetsuya Abe graduated from Chuo University in Tokyo with a BA in law and socio-legal studies and completed the Bond University Business Breakthrough MBA program, also known as BOND BBT-MBA. He worked at Matsushita Electric Industrial Co., Ltd. (current Panasonic Co.) in marketing, project-planning, systems engineering and both domestic and international sales market. In 1996, he moved to Hong Kong from the company's international headquarters as the first resident representative where he took part in the operation of business trade in China, Japan, Europe and the United States for five years.

He is the founder and managing director of EQ Partners Co. whose company mission is to make social contribution with leadership development by providing various consultations and practical training in human resources for enterprises and universities.

In March, 2009, he directed a two-week business training program titled, "Leadership and Business Management in Japan and Abroad" which was sponsored by AOTS (Association for Overseas Technical Scholarship) under The Japanese Ministry of Economy, Trade and Industry. The program targeted company executives from many different countries, including India, the Philippines, Malaysia, Mexico, Peru, Egypt and Kenya, and it was highly successful. Abe is also a lecturer of leadership theory at Rikkyo University Graduate School of Business Administration.

FOREIGN EDITIONS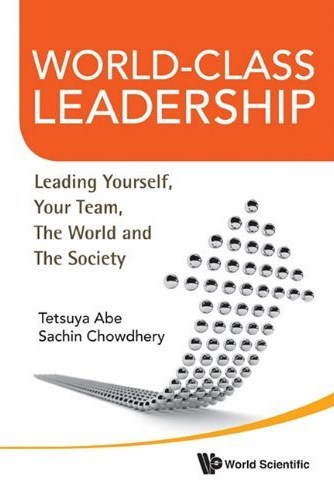 Title
World-Class Leadership: Leading Yourself, Your Team, The World and Society
Publisher
World Scientific Pub Co Inc
Publication
October, 2011
ISBN
978 - 9814360715
World Scientific
Amazon.co.jp