The Part of Me That Isn't Broken Inside
| | |
| --- | --- |
| Author | Kazufumi Shiraishi |
| Publisher | Kobunsha |
| ISBN | 978 - 1943150250 |
| Publication | August, 2002 |
| Estimated length | 320P |
| Sold to | English, Simplified Chinese, Complex Chinese and Korean |
Naoto Matsubara is a twenty-nine year old literary agent afflicted with a photographic memory—he remembers everything in excruciatingly fine detail, from a traumatic childhood incident to passages found in Buddhist texts, novels, and philosophical works by the likes of Yukio Mishima and Leo Tolstoy.

Convinced that he should have never been born, Naoto carries on affairs with three women: Eriko, a beautiful PR professional; Tomomi, a single mother getting by with a small bar of her own; and Lady Onishi, the wife of a wealthy businessman residing in a fashionable area of Tokyo. Naoto also enjoys free and easy relationships with Raita, a starry-eyed young man working at a yakitori shop, and Honoka, an impressionable, melancholic girl, whom Naoto has tutored in the past. Weighed down by emotional scars of their own, the two youths are rudderless, and Naoto offers them a refuge in his apartment, leaving his door always unlocked for them to come and go as they please.

Weary of superficial happiness, Naoto refrains from committing to any of his lovers. Instead, he simply weathers quarrels with Eriko, engages in sex for money with Lady Onishi, and takes pleasure in playing the father to Tomomi's boy, Takuya, and, in the process, explores how life and death are intimately—and profoundly—connected.

The Part of Me That Isn't Broken Inside is award-winning author Kazufumi Shiraishi's bittersweet, unflinching portrayal of such a man's timeless soul-searching quest for the unvarnished, yet golden, truth of existence.
About the Author
Kazufumi Shiraishi had a successful career, spanning two decades, as a journalists working for one of Japan's highest profile monthly magazines, Bungeishinju, before following in the steps of his father and twin brother becoming a full time author. He is a deeply thoughtful author who writes about love, life and the human condition and is unique in being the only Japanese author to follow in his father's footsteps by winning the same major Japanese literary prize.

FOREIGN EDITIONS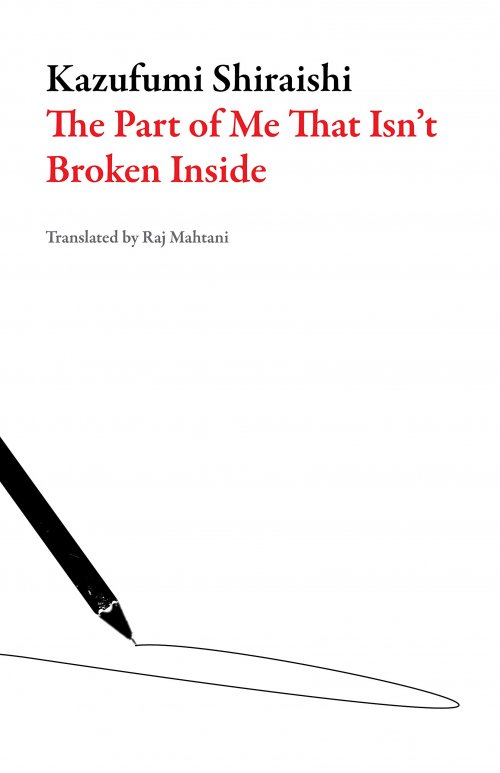 Title
The Part of Me That Isn't Broken Inside
Publisher
Dalkey Archive Press
Publication
August, 2017
ISBN
978 - 1943150250
amazon.com